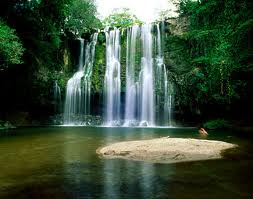 Costa Rica, officially the Republic of Costa Rica (Spanish: Costa Rica or República de Costa Rica) is a country in Central America, bordered by Nicaragua to the north, Panama to the east and south, the Pacific Ocean to the west and south and the Caribbean Sea to the east.
Costa Rica, which means "Rich Coast", constitutionally abolished its army permanently in 1949. It is the only Latin American country included in the list of the world's 22 older democracies. Costa Rica has consistently been among the top Latin American countries in the Human Development Index, ranked 62nd in the world in 2010, and is cited by the UNDP as one of the countries that has attained much higher human development than other countries at the same income levels.
The country is ranked 3rd in the world, and 1st among the Americas, in terms of the 2010 Environmental Performance Index.
In 2007 the Costa Rican government announced plans for Costa Rica to become the first carbon neutral country by 2021.
According to the New Economics Foundation, Costa Rica ranks first in the Happy Planet Index and is the "greenest" country in the world.
Costa Rica is located on the Central American isthmus, lying between latitudes 8° and 12°N, and longitudes 82° and 86°W. It borders the Caribbean Sea (to the east) and the Pacific Ocean (to the west), with a total of 1,290 kilometres (800 mi) of coastline, 212 km (132 mi) on the Caribbean coast and 1,016 km (631 mi) on the Pacific.
Costa Rica also borders Nicaragua to the north (309 km or 192 mi of border) and Panama to the south-southeast (639 km or 397 mi of border). In total, Costa Rica comprises 51,100 square kilometres (19,700 sq mi) plus 589 square kilometres (227 sq mi) of territorial waters.
The highest point in the country is Cerro Chirripó, at 3,819 metres (12,530 ft), and is the fifth highest peak in Central America. The highest volcano in the country is the Irazú Volcano (3,431 m or 11,257 ft). The largest lake in Costa Rica is Lake Arenal.
Costa Rica also comprises several islands. Cocos Island (24 square kilometres / 9.3 square miles) stands out because of its distance from continental landmass, 300 mi (480 km) from Puntarenas, but Calero Island is the largest island of the country (151.6 square kilometres / 58.5 square miles). Costa Rica protects 23% of its national territory within the Protected Areas system. It also possesses the greatest density of species in the world.